Smithsonian Libraries Exhibition Booth at ALA Annual
Will you be in Washington, DC for the American Libraries Association Annual Conference and Exhibition in June 2019? If so, we look forward to meeting you! The Smithsonian Libraries will offer several opportunities for conference attendees to get to know more about services, staff and collections, including an Exhibition Booth.
Look for us in Booth #2345 in the Exhibitor Hall. Smithsonian Libraries staff will be on hand during exhibition hours to tell you more about our 21 branch libraries as well as the services and programs we offer. Plus, there will be giveaways and a raffle!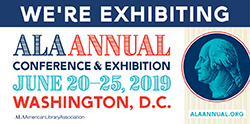 Each day, the booth will also have a schedule of Smithsonian specialists – drop by to talk to specific staff about their subject areas. Libraries staff who presented conference sessions and posters will have extra time to talk with you about their topics.
Below is the full schedule, also available as a downloadable pdf: