50th Anniversary Internships
The Smithsonian Libraries' 50th Anniversary Internship program currently provides students in library and information science and other disciplines a once-in-a-lifetime opportunity to work side-by-side with expert Smithsonian Libraries and Smithsonian staff. Through these internships, students acquire the latest skills, knowledge, and hands-on experience needed for today's information and cultural heritage marketplace.  Internships will be full time for eight weeks during the summer of 2020, with stipend levels dependent on academic level ($550/week for graduate students, $500/week for undergraduates). 
Applications for Summer 2020 have closed. Check back for Summer 2021 opportunities in early 2021. 
Funding for the 50th Anniversary intern class was provided by the Secretary of the Smithsonian and the Smithsonian National Board.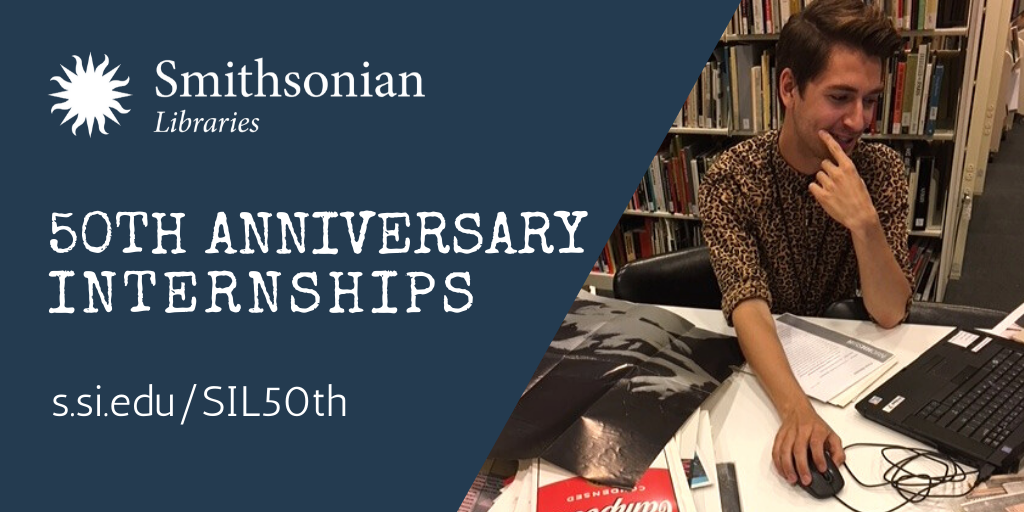 Additional Program information:
Eligibility Criteria
This paid internship program is open to students who are currently enrolled in an undergraduate or graduate program (depending on project) from an accredited institution, or those who have graduated in the past six months.
Application Materials
Application
Resume detailing your experience, career interests and internship goals
Unofficial Academic Transcripts from all college/universities attended
Academic Essay: Two pages describing how academic goals, qualifications and career aspirations relate to the internship at the Smithsonian Libraries
Two professional or academic recommendations (e.g., professors, past employers, supervisors), submitted electronically through SOLAA
All applications must be submitted through the Smithsonian Online Academic Appointment system: https://solaa.si.edu . Applicants should be sure to choose "Smithsonian Institution Libraries" as the unit, "Smithsonian Libraries 50th Anniversary Internship Program" as the program, and then select the two projects that most interest them.

Selection Criteria
At least a 3.0 GPA in the major (as verified by the submission of academic transcripts)
Demonstrated interest in the research and museological activities of the Smithsonian Institution and work of Smithsonian Libraries
Demonstrated knowledge or coursework related to Smithsonian areas of interest; solid writing, analytical, and computer skills are mandatory.
Suitable Smithsonian Libraries' projects for members of applicant pool.
Payment
Interns may receive $500 per week (undergraduates) or $550 per week (graduate students), which is awarded to the student as a stipend. Internships are full time (35 hours per week) for eight weeks. Interns are not eligible for Smithsonian or Federal transportation benefits.
Schedule
Applicants should expect to be notified of selection status in mid-February. Internships will be performed for eight full weeks during the summer. Internships typically begin in early June, though exact dates are flexible, depending on project and supervisor.
Further inquiries about Smithsonian Libraries Internships should be directed to:
Erin Clements Rushing (rushinge@si.edu)
Or: https://library.si.edu/about/internships-and-fellowships